The public can unite on the big issues around Brexit: the Citizens' Assembly showed how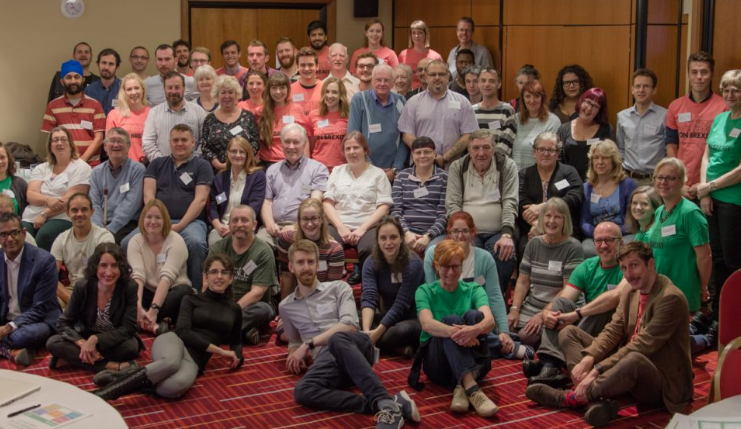 By Darren Hughes – Electoral Reform Society: Just a few days ago, a representative body of UK citizens came together to do something new: work across divides together to find a way forward on Brexit.
Members of the Citizens' Assembly on Brexit – randomly selected to capture the diversity of the UK population – met in Manchester to consider options for the UK's post-Brexit relationship with Europe.
The project, which we at the ERS were partners in, follows a recognition that the public have been largely left out of debates on Brexit, with parties split over what voters want.
Get Briefed, Get Weekly Intelligence Reports - Essential Weekend Reading - Safe Subscribe
What stood out this weekend was this: when given the opportunity to engage in in-depth discussions on everything from the Single Market to migration policy, citizens jump at the chance.
The 50-strong Assembly has been endorsed by a range of high-profile figures from across the Brexit divide, including Conservatives Bernard Jenkin and Nicky Morgan, Labour's Chuka Umunna, and Leave backer Harsimrat Kaur. That means it has real buy-in from all parts of the Brexit spectrum.
Crucially, the Assembly's members were selected to reflect last year's Brexit vote, alongside social class, region, age, gender and ethnicity. Of the 50 members, 25 voted Leave in the 2016 referendum, 22 voted Remain and 3 did not vote.
After hearing from a range of experts, and from politicians from both sides of the Brexit divide, they took four key votes:
On trade with the EU members voted for a bespoke trade deal ahead of staying in the Single Market. But should that prove impossible, their preference was to stay in the Single Market rather than agree no deal at all.
On trade outside the EU members preferred a bespoke customs deal, allowing the UK to strike its own international trade deals but maintain frictionless borders. If that can't be achieved they would opt to remain in the Customs Union rather than do no deal.
On immigration, Assembly Members were offered five options, of which retaining free movement, but with the government making full use of existing controls, won a clear majority of the vote.
On the overall deal with the EU, Assembly Members preferred a comprehensive trade deal combined with favourable access for EU citizens. If such a deal proves unattainable, they again wanted the UK to stay in the Single Market rather than do no deal.
What it amounts to in sum is a vote for 'soft Brexit' – from a majority Leave-voting Assembly and following a painstakingly balanced process.
While original to the UK, Citizens' Assemblies have been increasingly used across Europe and North America to formulate proposals on key policy and constitutional issues often associated with referendums.
Ireland's Constitutional Convention, based on the citizens' assembly model, recently led to the referendum agreeing to legalisation of same-sex marriage – and the one announced last week on access to abortion.
It all shows that even on the seemingly most-divisive issues, voters can come together and unite around key principles.
The Citizens' Assembly has proven to be an innovative and exciting way of dealing with complex economic and political questions – and coming to clear conclusions.
And it sets a precedent for dealing with divisive political and constitutional questions. As Dr Alan Renwick, the project leader, said:  
"The Citizens' Assembly on Brexit not only demonstrates citizens' views on this key issue, but also the wider benefit of such deliberative processes. Members with very different views came together, listened to each other and to the evidence, and were prepared to reach compromises."
Feedback from members was overwhelmingly positive – and turnout was almost 100%: only one of the 51 who attended the first weekend could not attend.
Indeed, the pollsters ICM who helped with the recruitment were 'astonished' at levels of interest from the wider public. The appetite among people to have their say on the nitty-gritty of our departure from the EU can't be understated.
And there's support from politicians to keep this kind of process going. Kate Green, Labour MP for Stretford and Urmston, told Assembly members on Friday 'it's a great pity that we didn't have a citizens' assembly before the referendum took place', while Graham Brady MP, Chair of the Conservatives' 1922 Committee, said the Assembly was 'a great model for us to follow.'
Now, all politicians should listen to the findings of this landmark event – and ensure people's voices are heard in the negotiations.
For more information see: www.citizensassembly.co.uk/Brexit    
The Citizens' Assembly was organised by a consortium of universities and civil society organisations: the UCL Constitution Unit, Centre for the Study of Democracy at the University of Westminster, University of Southampton, Involve, and the Electoral Reform Society.
---