MSF: "The human toll of the latest events in Gaza are appalling"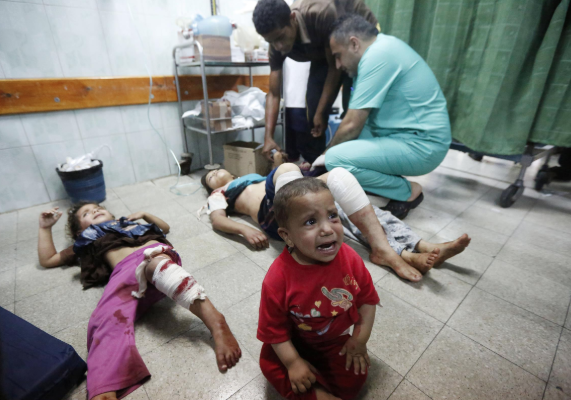 Médecins Sans Frontières, also known in English as Doctors Without Borders has some words about the current situation in Gaza. Don't forget this is not the health authority in Palestine, this is one charity working in what can only be described as a one-sided war-zone.
Their first words start: "The human toll of the latest events in Gaza are appalling."
From their website the following assesment is made:
Our medical teams are working around the clock, as they have done since 1 April 2018, providing surgical and postoperative care to men, women and children.
Get Briefed, Get Weekly Intelligence Reports - Essential Weekend Reading - Safe Subscribe
In one of the hospitals where we are working, the chaotic situation is comparable to what we observed after the bombings of the 2014 war, with a colossal influx of injured people in a few hours, completely overwhelming medical staff.
Our facilities providing post-operative care in Gaza have received more than 800 patients with gunshot wounds between 1 April and 15 May.
The events come nearly four years after Operation Protective Edge was launched in the Gaza Strip in 2014, leaving 2,286 Palestinians dead (25 percent were children), over 11,000 injured and 3,000 with permanent disabilities.
A ceasefire was declared on 26 August 2014, but of the 500,000 people displaced, 54,000 have still not been able to return home.
We have three burns and trauma centres in the Gaza Strip: Gaza City, Khan Younis and Bet Lahyia (which opened in July 2016). The majority of our patients had burns, usually the result of domestic accidents in conflict-damaged homes.
Across our centres, we:
Treated over 4,231 patients (mostly children).
Dressed over 52,000 wounds.
Conducted more than 36,000 physiotherapy sessions.
Conducted over 1,000 occupational therapy sessions.
Carried out a burns awareness campaign – reaching over 35,500 children in schools, kindergartens and nurseries.
In conjunction with the Ministry of Health, we run surgical programmes in Al Shifa and Nasser hospitals. We completed 275 surgical interventions (71 percent on children under 16).
Complex surgical cases which cannot be handled in Gaza are referred to Jordan, at our reconstructive surgery hospital. However, due to administrative delays, only nine out of 77 patients were successfully referred to in 2016.
MSF provides medical and psychological assistance to people affected by the ongoing conflict in Palestine.
In 2016, we continued our long-running mental health programmes on the West Bank and support to victims of burns and trauma in the Gaza Strip.
Our patients have been exposed to various critical events, including:
Witnessing violence.
Raids on their homes.
Arrests (of themselves or family members).
Deaths (of family members).
In consequence, many have developed mental health issues.
---