Britain's Future Economy: A Message From Norwich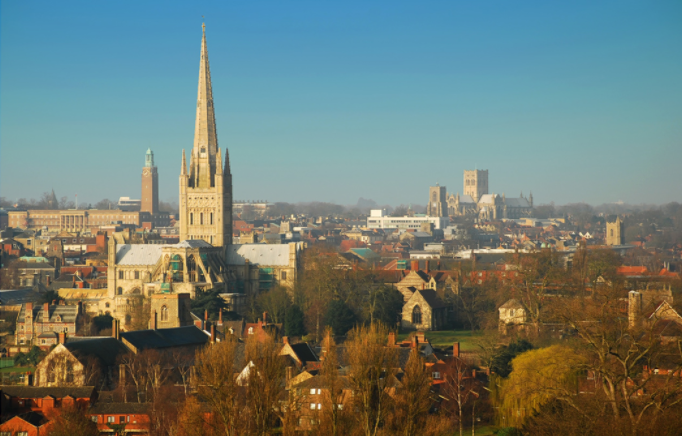 By Stephan Baskerville, Principle Director, Unions and Business – New Economics Foundation: In The Rings of Saturn, W. G. Sebald's account of a long walk he took in Suffolk, he writes:
"It's hard to imagine now… that the white flecks of the windmills lit up the landscape just as a tiny highlight brings life to a painted eye. And when those bright little points faded away, the whole region, so to speak, faded with them."
After the windmills came other industries. Food and drink manufacturing offer relatively well-paid and high-quality jobs in Norfolk and Suffolk, and other opportunities give reason for hope. The energy sector is booming, particularly offshore wind, and digital industries are growing, as are science and innovation clusters.
Get Briefed, Get Weekly Intelligence Reports - Essential Weekend Reading - Safe Subscribe
The big danger is that recent trends in the UK economy will continue to allow the region to 'fade away', like Sebald's windmills.
"MANUFACTURING WAS A HUGE INDUSTRY IN NORWICH…ALL THE MANUFACTURING JOBS AND SKILLS HAVE GONE…WE'RE HANGING ON BY A THREAD…WE DON'T KNOW WHETHER WE'RE GOING TO BE HERE IN TWO, THREE YEARS TIME."

An increasing proportion of the workforce are in lower paid and more insecure jobs with fewer chances for progression. This is partly explained by the relative growth of jobs in service industries like retail, social care and hospitality, linked to the region's older than average population and its reputation as both a retirement and tourism destination.
But there have also been trends in manufacturing, as elsewhere in the UK, which have seen the increasing use of insecure working conditions and agency workforces.
If the government is going to make good on its promise to drive growth across the whole country, it needs to focus as much on the lower paid, less productive and less glamorous of Britain's industries as it does on the shinier, cutting edge ones.
Our research points to the need for a more active sectoral approach which brings employers, unions and government together to address industrial transitions and problems with job quality in particular sectors. As one union leader told us,
"LOTS OF OUR MEMBERS EXPECT TO HAVE TO CHANGE JOBS, DEVELOP THEIR SKILLS THROUGHOUT THEIR CAREERS BUT WE'VE GOT TO GIVE PEOPLE SOME CERTAINTY ABOUT WHAT THAT PATHWAY MIGHT LOOK LIKE FOR THEM AND THEIR ABILITY TO PLAN THEIR OWN LIVES AROUND IT."
We spoke to older workers who found the prospect of re-training daunting and almost impossible, when they are working in full time jobs without the time or money to dedicate themselves to learning a new set of skills.
That's why it is so important that the government gives support and financial compensation to facilitate adult re-training. This is critical both for those in industries whose future is uncertain and for those in jobs where there are limited opportunities for progression.
The costs of re-training could be met through the savings generated as proceeds from the Apprenticeship Levy replace current apprenticeship funding. It will be especially important to prioritise those on low incomes who find themselves most at risk when the factories close their doors or service industries shrinks their workforce.
Other changes are needed too. We heard repeatedly that the skills system is not doing enough to equip young people with the knowledge and qualifications they need to access the higher quality job opportunities which are being created in the region.
"I COULDN'T GO BACK AND GO INTO COLLEGE OR ANYTHING LIKE THAT AND NOT EARN ANY MONEY. I WOULD HAVE TO GO AND EARN SOME MONEY SOMEWHERE, OTHERWISE I LOSE MY HOUSE."
To take one example, there are going to be a huge number of opportunities created in engineering and construction, as older energy platforms in the southern North Sea are decommissioned, and the largest offshore wind farm in the world continues to expand.
There will be new high skill jobs for decades to come, but they're likely to go to people from outside the region unless something changes to create a pipeline of local young people who are able to take them.
We found a great local example in the collaboration between East of England Energy Group and Lowestoft College. They've created an Energy Skills Foundation programme to help young people choose the right kind of engineering qualification, reducing drop-out rates.
Cooperative relationships like these between employers and education institutions should be much more widespread.
The strategic objectives adopted by the Government, as it develops its plans for a place-based industrial strategy, should include: ensuring that local people and institutions are at the decision-making table and have power to shape policy and practice; delivering good jobs across the country in a way that is consistent with decarbonisation; and ensuring that local people benefit from the value and wealth generated in their areas.
---