Chancellor faces pre-budget blow with write-offs, Brexit uncertainty, contracting economy and promises it can't keep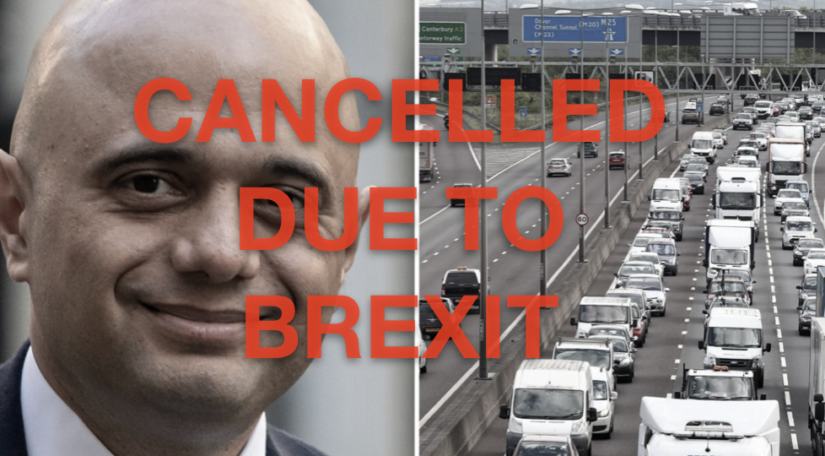 By TruePublica: The 6th November budget has just been cancelled this year due to Brexit. It would have been if nothing else – interesting. The next will budget, unfortunately, will be about Brexit not about balancing the national books. The prime minister has pledged to increase spending on health, schools and policing alongside sweeping tax cuts. In the meantime, the chancellor has promised a spending spree in the tens of billions on infrastructure such as roads and broadband – just as annual borrowing increases are confirmed and the economy is teetering on the brink of recession.
Since the year 2000, annual inflation has been rising by an average of 2.04% whereas UK government tax receipts have risen from £316bn in 2000 to £623bn in the same period to 2018-19 – about double. And yet, in the period since 2010 the government has sold off state assets at the highest rate since Thatcher to help pay for the bank-led financial crisis and austerity measures – the national debt continues to increase.
To add more pain to balancing the budget, an eye-watering £2.7 billion-worth of student loans alone has been written-off this September just as the economy is confirmed as 'teetering' on the edge of recession.
This year's budget was expected on November 6th. It was originally announced to help pile more pressure on the debate to get Brexit done by the 31st October. Savid Javid said – "I will be setting out our plan to shape the economy for the future and triggering the start of our infrastructure revolution. This is the right and responsible thing to do – we must get on with governing."
SafeSubcribe/Instant Unsubscribe - One Email, Every Sunday Morning - So You Miss Nothing - That's It
However, official figures show the first September hike in Government borrowing for five years as Javid now risks significantly overshooting overall borrowing targets for the financial year 2018-19.
The Office for National Statistics (ONS) said public sector net borrowing (excluding state-owned banks) rose by £60 million to £9.4 billion year-on-year in September.
The borrowing hike comes despite the Government receiving a £1.1 billion dividend boost last month from part-nationalised lender Royal Bank of Scotland.
The ONS said borrowing was pushed higher due to seasonal payments of £2 billion for winter fuel and £2.7 billion for student loan write-offs.
Student debt
Taking student loans as an example of a worsening financial legacy –  last year it was revealed the ONS would include student loans into its figures. The size of student loans has soared since 2012 when the government increased the maximum amount that universities could charge English undergraduates to £9,000 a year, and also raised the interest rate to 3 per cent above inflation. It now feels some of the pain of that decision by originally including it as income – now as write-offs.
In total, the government now lends students around £16 billion a year, more than double the amount lent in 2010/11 to students, and the total amount outstanding now is more than £121 billion – anticipated to reach £450 billion in just 30 years (government statistics here).
But about 40-45 per cent of current lending and the interest due on it is unlikely to be repaid, the ONS projects as that same percentage of students will never earn enough to exceed the threshold and repay the debt. In England and Wales, outstanding loans get wiped out 30 years after graduating. In Scotland, it is 35 years and in Northern Ireland, it is 25.
Magic money tree or national debt?
It will be an interesting budget this year (or early next year). There is a lot for the Chancellor to consider. The government has announced its 'national infrastructure project' – amounting to a spending spree on roads, buses and broadband and an all-electric bus town. Javid said:
"It will be the biggest increase in infrastructure investment by the government that this country has ever seen. These are the things that we rely on every day: the roads that take us to work, take our kids to school, the fibre optics that can help small businesses trade with people throughout the world. So many other countries have made advances on this and we have done a lot over the last few years, but we can do so much more."
Asked if taxes would have to go up to pay for the massive investment programme, the chancellor responded: "No, not at all. Our plans will be to bring taxes down."
Government figures predict that by next year, construction will need 250,000 new workers, excluding any Brexit impact or the effects of the announced national infrastructure project. Ironically, it may mean bringing thousands of migrant workers in as the domestic workforce is already woefully short to cope. Approximately 9% of the construction workforce in the UK are from the EU – many of whom have decided to leave in the wake of Brexit. In the meantime, there has been a fall of nearly 50% of EU construction workers arriving in Britain adding more pressure on the construction industry. (2018 Impact Report)
The Institute for Fiscal Studies think tank has also warned that Johnson and Javid risk lifting Britain's national debt to levels unseen since the mid-1960s, should they implement their spending plans in full.
Quite how the 'magic money tree' will be shaken down to cover the promises of the Prime Minister and his Chancellor is yet to be discovered.
---