This Scandal Should Bring The British Gov't To Its Knees – But It Won't!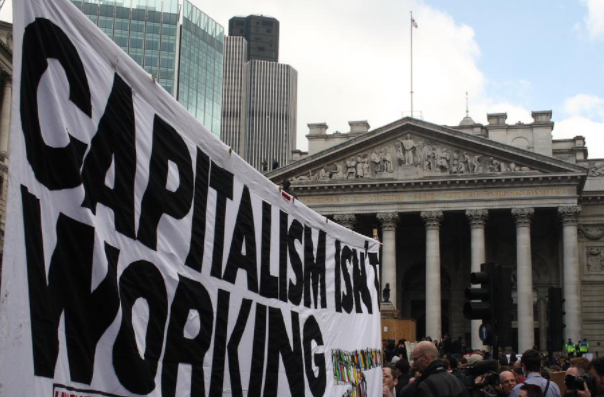 Move Your Money and Debt Resistance UK have just reported fresh evidence raising questions over the Conservatives 2010 and 2015 election funding, exposing millions of pounds of dirty money flowing into the Conservative Party via IPGL Ltd and HSBC.
Their headline is: Cash for Conservatives Exposes the HSBC Dirty Money running the Tory Party
HSBC awarded a £214m loan  to a highly indebted company, IPGL Ltd, chaired by Tory Party Treasurer & Chief Fundraiser, Michael Spencer.
IPGL and its struggling subsidiaries

donated at least £5.3m

 to the Conservative Party – large, ongoing donations enabled by HSBC.
HSBC has won significant concessions from successive Conservative governments on tax, the bank levy, Mexican money laundering & terrorist financing investigations, as well as over the Swiss Leaks & Panama Papers.
HSBC left a trail of cash,

gifts

, loans, and donations, which bought the bank unrivalled open door

political access

, yet deny claims of undue influence over the Conservatives.
Robert Peston, political editor of ITV News has just tweeted this:
SafeSubcribe/Instant Unsubscribe - One Email, Every Sunday Morning - So You Miss Nothing - That's It
This is a copy of Member of Parliament Roger Mullin's letter to the Chief Executive of the Electoral Commission. The salient line accuses the Tories "of taking £5million of loans laundered directly to Conservative Party headquarters."
CommonSpace have just headlined with
Campaigners rail against Tories in 'cash for conservatives' scandal
CAMPAIGN GROUPS AND OPPOSITION MPs have expressed outrage at the alleged connections between money raised by the HSBC banking corporation and the Conservative party's spending in the General Elections of 2010 and 2015.
Vox Political reports:
What's this? HSBC Bank covertly funding the Conservative Party? Can anyone smell a scandal?
However, the mainstream establishment press are not reporting this scandal as they should.
The Telegraph's only report connecting HSBC and the Conservatives of recent days was April 30th where HSBC have yet again threatened to leave the UK as they are being forced to pay taxes.
HSBC chairman warns Britain's biggest bank could leave for Asia as taxes bite
The Daily Mail reports the same with its April 25th report "HSBC moots relocating HQ outside UK".
The Electoral Commission fined the Conservative Party £70,000 over campaign spending in the 2015 election and three by-elections for seriously dodgy accounting just six weeks ago. The police are now involved in another case reported to them about Conservative party election shenanigans.
None of the other mainstream players are reporting this huge scandal that really should be hitting every headline across the land. After all, we are talking of money laundering, illegal donations and fraud – all of which are considered nothing less than law-breaking.
But let's not forget that the Conservative Party has been linked to corruption with Britain's biggest bank before. The Independent reported in February 2015: "David Cameron will be challenged over the long-standing links between scandal-hit HSBC and the Conservative Party, after Electoral Commission records showed three senior bank figures have donated £875,000 to the party in recent years. As Downing Street came under more pressure over this week's revelations that the bank allegedly helped wealthy individuals evade tax through Swiss accounts, it was revealed that HSBC's deputy chairman, Sir Simon Robertson, has made 24 separate donations totalling £717,500 in the last nine years."
Not that the Conservative party have ever shown much favour to HSBC of course. Well, that is if you discount former HSBC chairman Stephen Green who sits in the House of Lords as a Tory Peer after denying allegations of any knowledge of the world's biggest money laundering operation involving Mexican drug cartels and thousands of dead people.
And of course there was no influence by the Tory party in the appointment of an HSBC director being given the plumb £10,000 a day role as BBC chair. The Guardian reported in march 2015: "Rona Fairhead has been urged to resign from her role as chair of the BBC Trust by the chair of the influential public accounts committee, in the aftermath of the tax avoidance scandal at HSBC, where she has been a long-serving non-executive director."
These scandals keep moving on without much ado. They did then, it will now. This is the way of the modern world today. We seem to accept that our own lawmakers are lawbreakers.
All this just when this happens: "A 'vulnerable' woman was jailed for six months because she begged for 50p – and didn't have access to a defence lawyer in court." She didn't have legal defence because of austerity cuts imposed by the Conservatives on the legal aid system that was designed specifically to assist people such as this.
Sentencing her at the hearing in February, Judge Mackenzie said: 'I am particularly concerned about that because on any view, Ms Baker is a fragile individual; has difficulty reading and writing; difficulty in understanding." MacKenzie went on to say that appearing in court without a lawyer "came close to breaching her human rights."
We now have anarchy by the rich and powerful in Britain today. We are ruled by the wolves of neoliberal capitalism and the Conservative party connection with scandal ridden HSBC is nothing less than a brazen admission of that fact and it will go unpunished – as usual.
---