Tory Plan To Get More Disabled People Into Work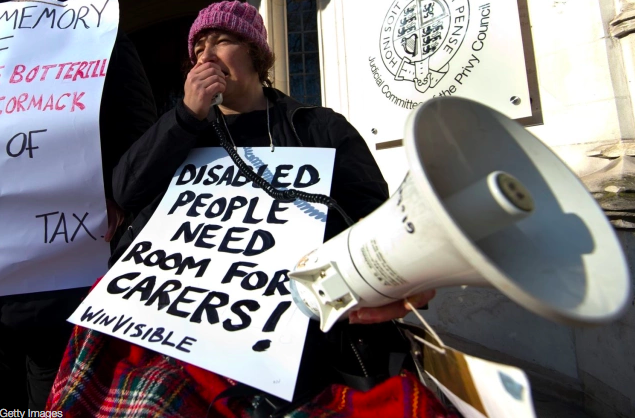 An article by Welfare Weekly highlights some of the pressures the Conservative government plan for getting more disabled people back to work. Measures include widening 'fit note' certification, reforming statutory sick pay, and large-scale employment research pilots.
The UK Government has set out a new plan to improve the number of people with disabilities in work, pledging to "break down the barriers to employment facing disabled people".
Measures include widening 'fit note' certification and providing training for work coaches to support people with mental health conditions.
Get Briefed, Get Weekly Intelligence Reports - Essential Weekend Reading - Safe Subscribe
Despite record employment levels and more than 600,000 disabled people moving into work over the last four years, the disability employment gap (the difference between the number of disabled and non-disabled people in work) has remained stubbornly high.
Official Government figures show that in 2016 only 49% of disabled people aged 16–64 were in work, compared with 81% of non-disabled people.
The Government says it is committed to reducing this gap, with Prime Minister Theresa May saying: "The path a person takes in life and in work should not be dictated by their disability or health condition. Everyone deserves the chance to find a job that's right for them.
"I am committed to tackling the injustices facing disabled people who want to work, so that everyone can go as far as their talents will take them."
Mrs May added: "We recognise the hugely positive impact that working can have on people's health and wellbeing, which is why we are determined to break down the barriers to employment facing disabled people.
"This strategy sets out how government, employers and the health service will work together to get more disabled people into employment, and help shift the attitude of business and society to disability.
"This is part of building a country that is fit for the future and creating a fairer society, one that will make sure everyone can reach their potential."
Proposals include:
Extending fit note certification beyond GPs to a wider group of healthcare professionals, including physiotherapists, psychiatrists and senior nurses, to better identify health conditions and treatments to help workers go back into their jobs faster.
Large-scale employment research pilots in West Midlands and Sheffield which will include over 11,000 people. This research will gather evidence to help improve services for those with health conditions, supporting them get into and stay in work.
A commitment to continue training work coaches to help them work with benefit claimants with mental health conditions, with support from a national mental health charity.
A £39 million investment to more than double the number of employment advisors in an existing NHS programme treating people with depression and anxiety disorders.
Responding in full to the 40 recommendations of the Stevenson/Farmer Review of mental health and employers – including reforming Statutory Sick Pay, improving advice and support for employers and encouraging transparency. The government is also encouraging other employers to take forward these recommendations.
Encouraging more companies to sign up to the Disability Confident scheme.
Appointing an Expert Working Group on Occupational Health to champion, shape and drive a programme of work to take an in-depth look at the sector.
Work and Pensions Secretary David Gauke said: "Everyone should be able to go as far as their talents can take them, but for too long disabled people and people with health conditions have been held back from getting on in work.
"Today we've set out an ambitious 10-year strategy to end this injustice once and for all. By bringing employers, the welfare system and health services together we're taking significant steps to ensure everyone can reach their potential."
Health Secretary Jeremy Hunt added: "Mental ill health can affect anyone, from any walk of life at any time. For too long society has dictated that people with physical and mental health issues or a disability are a burden.
"Ensuring that more people with disabilities or long-term health conditions can get into and stay in work would not only enhance their lives, but actually enrich our economy too.
"This strategy will help shape the future for hundreds of thousands of people with disabilities and mental health issues as we continue to tackle the stigma that so many people face when trying to get into and progress in work."
Debbie Abrahams MP, Labour's Shadow Work and Pensions Secretary, said: "The Tories' cuts to social security support are pushing more and more disabled people into poverty. Last week's Budget failed to do anything for disabled people even though the recent Equality and Human Rights Commission report showed a disabled adult is over £2,000 a year worse off since 2010.
"Even the UN Committee on the Rights of Persons with Disabilities condemned this Government for causing a 'human catastrophe' in their failure to uphold the rights of disabled people.
"This 'plan' from the Government looks like nothing more than a guise for more cuts. The Tories have already hit disabled people who are not fit for work but who may be in the future in the Work Related Activity Group. I hope they are not going to now target the most disabled people in the support group, as their Green Paper hinted at.
"At the 2015 General Election, the Tories promised to halve the disability employment gap. Since then they have dropped this commitment.
"If this Government really cared about disabled people they would end austerity now which is disproportionately impacting upon disabled people and reform and extend Access to Work for those disabled people who are able to work."
Kamran Mallick, chief executive of Disability Rights UK, said: "There are many principles to be welcomed in the government's announcement on getting more disabled people into work – we particularly welcome the idea of personalised employment support for example, and the recommendations of the Stevenson/Farmer review being accepted and acted upon.
"But this is against a backdrop of cuts in support to disabled people in and out of work, and missed opportunities. This week's industrial strategy was a chance for the government to insist public sector contracts would only be awarded when bids included a mechanism which led to employment or training opportunities for disabled people. It ignored that possibility.
"We've heard many positive platitudes from governments about the employment of disabled people over the last 20 years but little change in reality. To meet its ambitious target of more than 1 million additional disabled people in work by 2027, this government needs to make sure its ambition is matched with the resources and culture change required to make it happen."
Chief Executive of Citizens Advice Gillian Guy said: "The Government is right that we need a joined-up approach if we're going to help disabled people into work, and today's strategy on the future of health, employment and disability is a welcome step towards more integrated services.
"We are also pleased to see recognition of the important role occupational health plays in helping disabled people into work, along with further progress towards providing tailored employment support, including in mental health services.
"However, it is clear that the assessment process for ESA is not working – something the government rightly acknowledges. We remain concerned that many of the people who come to us for advice are facing immediate problems with inaccuracies and stressful experiences that can set them back even further. We will continue to share our evidence on these issues with the Government to help inform future decisions.
"Ultimately, design and delivery can be as important as policy, so it's crucial the government gets this right."
Mark Atkinson, Chief Executive of disability charity Scope, said: "While the Government says 600,000 more disabled people are now in work compared to four years ago, Scope analysis shows that disabled people are dropping out of work faster than they are moving into it.
"This is a solvable problem, but we cannot underestimate the size and complexity of the challenge facing us.
"It's crucial that today's plan quickly leads to real change, with large-scale reforms in areas such as sick pay and the fit-for-work assessment.
"The Government recognises the need to work directly with disabled people, and must ensure that their experiences are at the heart of all policy changes."
---