EU launches new counter-terrorism database – Without Britain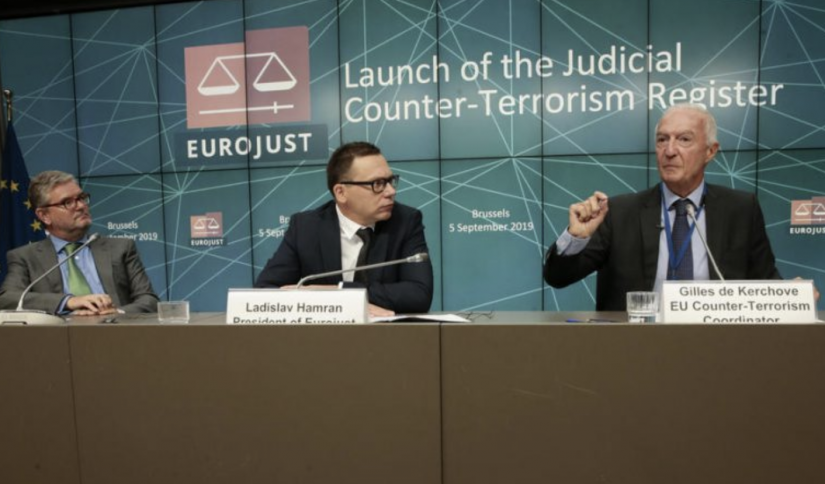 A report just published in euractiv that says Eurojust, the EU's agency on judicial co-operation, launched a Counter-Terrorism Register on Thursday (5 September), designed to streamline the exchange of information between EU member states on potential terrorist offences.
The database will put together information from EU countries on ongoing investigations, prosecutions and convictions of militants, including returning foreign fighters that joined terrorist groups abroad such as among others the Islamic State (IS) in Iraq and Syria.
"The new Counter-Terrorism Register will help judges and prosecutors to proactively establish links between cases to ensure that criminals and terrorists do not go unpunished," the Security Union Commissioner said at the official launch of the register.
According to the Commissioner, currently, at least 1,300 EU citizens, of which more than half are children, are held in Syria and Iraq.
Khalid Mahmood, a Labour MP, estimated that there were at least 1,500 Britons were actively involved in ISIL. Another source from the BBC estimates around 850 people from the UK had originally travelled to Iraq and Syria to support or fight for jihadist groups.
SafeSubcribe/Instant Unsubscribe - One Email, Every Sunday Morning - So You Miss Nothing - That's It
With the new register, the EU also hopes to help prevent new terrorist attacks in Europe, as prosecutors will have access to more information on suspects, Eurojust's chief, Ladislav Hamran, told reporters upon the official launch of the register in Brussels.
It also is meant to address the rising threat of non-jihadist terrorism, including right-wing and left-wing extremist groups in Europe. It was only revealed two months ago that far-right extremism is to be included in official terror warnings alongside Islamist threat for the first time.
"Terrorists operate more and more in cross-border networks, the EU must do the same," Hamran said.
According to him, that would also involve the setting up of secure, encrypted channels to transfer electronic evidence to mitigate risks from cyberattacks.
"A fast exchange of data can be the key to the success or failure of an investigation," EU Justice Commissioner Věra Jourová added.
EU member states have for years been reluctant to share information about their national authorities' judicial and criminal proceedings.
The EU laid the groundwork for judicial data cooperation back in 2005 but the project stalled when some national law enforcement bodies in member states guarded information.
The idea to set up such a database, however, had gained momentum after the 2015 Paris attacks, when terrorists linked to the attacks were found operating across other member states borders.
France, Germany, Spain, Belgium, Italy, Luxembourg and the Netherlands then took the initiative to set up a register at Eurojust to collect judicial information on the activities of terrorists and terrorist networks and identify possible coordination needs.
On the basis of this proposal, a register has now been set up with the support of the European Commission, the European Parliament's Anti-Terrorism Special Committee and the EU Anti-Terror Coordinator.
According to Eurojust, the number of ongoing judicial procedures in connection to terrorism cases and which are notified to the agency amounted to 580 in 2018.
Brexit causes many problems in this area and goes counter to security cooperation with the European Union, as major parts of any future agreement between the EU and the UK, such as law enforcement and judicial cooperation in criminal matters, the rules for cooperation in Europol and Eurojust cooperation, have not been determined. A no-deal Brexit automatically throws Britain out of the EU security cooperation agreement.
(Main Image – European Commissioner for Security Union, President of Eurojust and the EU Counter-Terrorism Coordinator give a press conference to Launch of Judicial Counter-Terrorism Register at Eurojust in Brussels, Belgium, 05 September 2019)
---