HALLELUJA! – BBC Updates Editorial Guidelines to Improve Scrutiny of Think Tank Pundits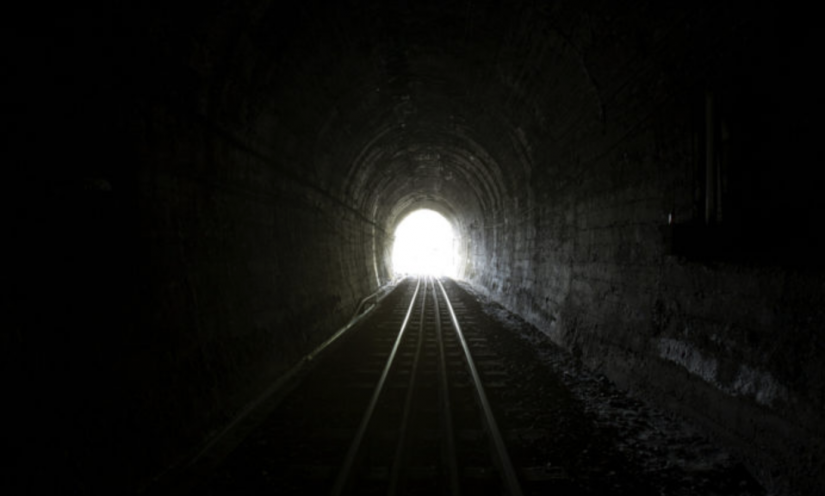 TruePublica Editor: At last, someone at the BBC has finally seen the light. It's at the end of the tunnel there somewhere. For four years TruePublica has complained about the detrimental effects of organisations like the so-called institute of Economics Affairs – one of the most opaque and secretive think tanks in Britain that swings way too much political influence. It has recently been caught in a cash-for-influence scandal that a decade ago would have seen the government fall. It is not an educational charity – its a front for lobbying far-right free-market ideologies. The notice below from the BBC is, at best, muted. "Appropriate information about their affiliations" – should include exactly who funds them in the first place – and as organisations such as the IEA refuse to do so, they should be given ZERO air time on the BBC.  At least now we can call out the BBC for breaching their own guidelines when they wheel out these devotees of disinformation.
Mat Hope – DeSmogUK: The BBC has altered its editorial guidelines after persistent calls for the organisation to improve transparency around the commentators to which it gives a platform.
The broadcaster has now added "think tanks" to a list of groups that it says presenters and producers should "not automatically assume … are unbiased".  "Appropriate information about their affiliations, funding and particular viewpoints should be made available to the audience, when relevant to the context," the guidelines say.
The change could have significant ramifications for representatives of anti-regulation, pro-Brexit think tanks and campaign groups based in and around offices at 55 Tufton Street, including the UK's principal climate science denial campaign group the Global Warming Policy Foundation, on which DeSmog has extensively reported.
SafeSubcribe/Instant Unsubscribe - One Email, Every Sunday Morning - So You Miss Nothing - That's It

This follows pressure from journalists including the Observer's Carole Cadwalladr. She has long fought for the funding and ideology of groups including Vote Leave, Leave.EU, the Institute of Economic Affairs, Taxpayers' Alliance, and other Tufton Street groups to be made clear when they appear on the BBC's programmes.
Revealing the change to the guidelines on Twitter, Cadwalladr called the move "a very small ray of sunshine in an ongoing national shitshow". In an email to Cadwalladr from a BBC press officer, she was told the changes had been made in part due to a meeting she had with the organisation's Director General, Tony Hall.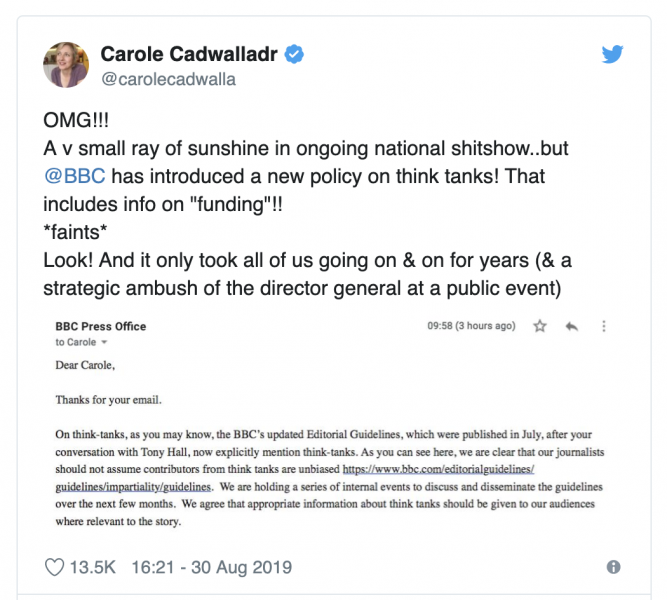 Cadwalladr told DeSmog:
"It's a really important move that a lot of people have been calling out for a very long time. These corporate lobbyists have been pushing policies on behalf of unknown clients and have been given a free platform to disseminate their misinformation across pretty much all UK broadcasters. I really hope other news organisations will now follow the BBC's lead and that we will finally see the end of this paid-for propaganda masquerading as 'independent' free speech."
Adam Ramsay, Co-Editor of openDemocracy UK, who has also long argued that experts should be forced to disclose who funds them if they want to participate in high-profile broadcasts, called the change "a small victory for everyone who has investigated these lobby groups masquerading as think tanks". But he urged caution until there had been some examples of the guidelines being implemented. He told DeSmog:
"It's only a small victory until we see how journalists apply the policy. Will the IEA be introduced as 'and now, the representatives of British American Tobacco are here to put the tobacco industry view?' Or will they still in reality be paraded as experts, with a mumbled introduction informing viewers that other views are available?"
Dustin Gilbreath, Communications Manager for watchdog Transparify, which ranks think tanks on their transparency, welcomed the move and hoped it would encourage groups to be more open. He told DeSmog:
"In the United Kingdom, the lion's share of reputable think tanks have embraced financial transparency as the standard. Only a limited few large think tanks continue to take money from hidden hands behind closed doors. We hope that the BBC's actions will encourage those think tanks that remain opaque in the UK to reconsider their financial transparency."
---