Misinformation about Pfizer vaccine will damage lives and the economy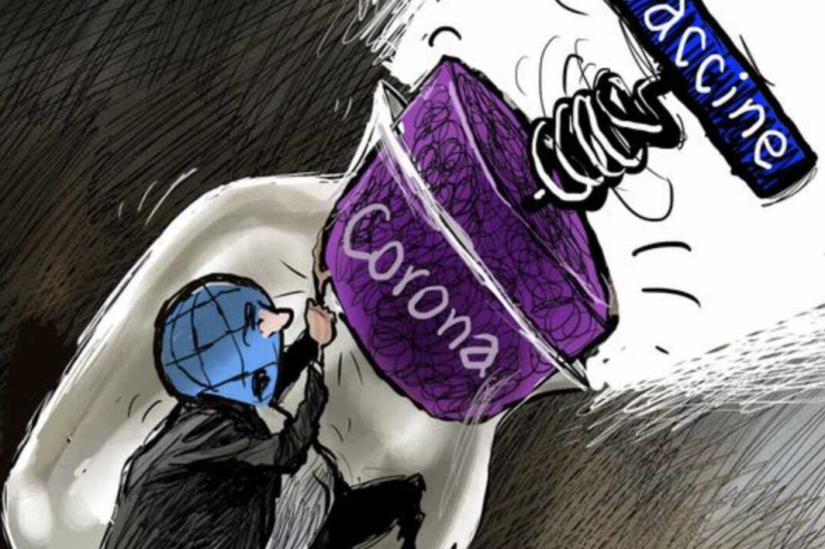 By TruePublica: The government insists it has secured a major commitment from Facebook, Twitter and Google to tackle anti-vax disinformation in Britain. It hasn't. It's just another lie. At the same time, Labour has claimed dedicated anti-vaccination groups with, hundreds of thousands of members on social media, are "churning out disinformation" over the Pfizer vaccine on the issue. Labour is demanding emergency laws, the same powers Boris Johnson gave himself to enforce lockdowns – to stamp out dangerous anti-vax content.
Shadow culture secretary Jo Stevens and shadow health secretary Jonathan Ashworth have written to Culture Secretary Oliver Dowden insisting that the "spread of disinformation online presents a real and present danger" to vaccination efforts. Stevens said: "The government has a pitiful track record on taking action against online platforms that are facilitating the spread of disinformation."
The reason for this pitiful track record is that this is how Brexit was dragged over the line and how Boris Johnson got into No10 Downing Street in the first place – the spread of false claims and disinformation via those very same platforms.
The Pfizer vaccine announcement two weeks ago was good news. Its coronavirus vaccine trial with German firm BioNTech showed positive results but that then prompted a flurry of misleading claims about the timing and nature of it.
In America, it's no different. High-profile accounts such as the president's son Donald Trump Jr. suggested that the pharmaceutical giant's announcement was linked to Joe Biden's victory in the US presidential election. "The timing of this is pretty amazing," he wrote on Twitter, adding: "Nothing nefarious about the timing of this at all right?" in a post that received more than 11,200 retweets. Others from pro-Trump quarters, including Republican congressional candidate Errol Webber, who lost to Democrat Karen Bass on November 3, tweeted, "How much do you want to be [sic] Pfizer intentionally didn't announce before the election just to not give Trump the W?" in a post that attracted 1,700 interactions, including nearly 600 shares. British businessman and anti-lockdown campaigner Simon Dolan added to this narrative by pointing to the type of vaccine itself: "90% protection. No safety concerns reported. Completely experimental approach. Must be a miracle. And just a couple of days after the US election….." in a post that received 3,400 interactions.
SafeSubcribe/Instant Unsubscribe - One Email, Every Sunday Morning - So You Miss Nothing - That's It
The consequence of seeding doubt in people's mind over vaccine safety is that in both the UK and USA somewhere between 40 and 60 per cent of the population will reportedly refuse a Covid-19 vaccine. That being the case – Covid will simply take much longer to eradicate. It will mean more poeple dying, more businesses going bust, more unemployment, a bigger recession, more repossessions, homelessness and poverty.
In August last year, the anti-vaxxer movement saw the UK lose its measles-free status three years after the virus was eliminated in the country. Measles is one of the world's most contagious diseases. Like Covid, it is a viral illness spread by coughing and sneezing. Although most people who catch it will recover, it can lead to life-threatening complications. The mass vaccination programme in Britain against measles saved 100 lives a year – Covid-19 has claimed over 50,000 in less than a year.
The Pfizer vaccine uses messenger RNA (mRNA) to inject part of the virus's genetic code in order to train the immune system. This novel and approach has fuelled conspiracy theories online, including the false claim that such injections "alter your DNA." Scepticism around a potential vaccine for Covid-19 is reportedly an area of concern in many countries, prompted by a highly engaged and organised online anti-vaccine movement.
---