No-deal Brexit and the WTO: The Chaos characterised by just one product – yoghurt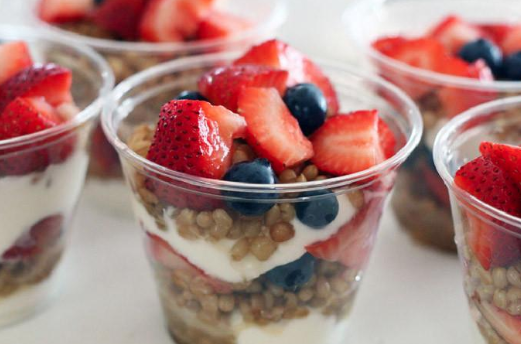 By TruePublica: If the reports from various civil servants, government agencies and leaked documents are right – and there's no reason to suggest that all these warnings collectively are made up nonsense, then a no-deal Brexit means Britain turning towards the World Trade Organisation as the facilitator of both inbound and outbound trade. The government believes a no-deal Brexit is a strong possibility by preparing with a £2bn contingency fund, 3,500 troops on standby, and reserved space on ferries (both real and imagined). But what the public is being told by politicians in particular, about how the WTO will replace the current EU arrangement is simply not true (please see updated footnote on this article).
Significant barriers lay ahead under WTO trading rules

Relying on WTO terms to govern trade will significantly damage the economy

Where WTO agreements do apply, they don't provide the kind of protection imputed to them

Britain currently objecting through the WTO via the EU over American aircraft subsidies – still not resolved after 14 years
Jacob Rees-Mogg tweets: "WTO terms are much better than remaining shackled to the EU" and Wetherspoon chairman Tim Martin is telling anyone who will listen that only "project fear" thinks Britain being relegated to WTO terms will be damaging to the economy.
They are not telling the truth though.
Get Briefed, Get Weekly Intelligence Reports - Essential Weekend Reading - Safe Subscribe
If a no-deal Brexit does in fact occur – come 11:01 pm on March 29, 2019, every truck arriving from the UK into any EU port will need to be inspected. And that will involve physically opening those trucks, making sure that the paperwork matches the load, accessing the World Trade Organisation's (WTO) list of tariffs, applying the appropriate rate — most but not all are at the 8 per cent-mark.
Foreign correspondent Mick O'Reilly for the Gulf News writes (Full article HERE) about how WTO rules might actually work with the example given of just one product – yoghurt.
There are 164 nations that are members of the WTO. And everything that moves under the WTO rules are assigned numbers, all part of its "Harmonised System". Basically, everything that moves is given at least a six-digit number that describes its category.
There are 99 broad categories, which form the first two numbers, with sub-categories coming in the following four.
Here's an example: 04 is dairy products, eggs and other edible animal products. These are then divided by adding more digits. So, 0403 would indicate it's milk, or 0403.10 would be yoghurt, or 0403.10.11 would be low-fat yoghurt.
But if it was yoghurt made, for example, from goat's milk, then the coding is different.
Yep, complicated. You get the picture. Now imagine every truck leaving the UK having to be checked, figuring out what's on the truck, assign numbers — or if numbers have been assigned by shippers, making sure that those numbers are right. Then assessing tariffs — and tariffs are not the same on all products according to WTO rules.
That truck will then have to be placed under a customs seal, with that seal number recorded on paperwork and records, either electronically or by hand.
And once the customs officers are happy with that paperwork, the tariffs have to be paid. Who pays it? And when? Does a Polish truck driver have to pay? What if his company isn't bonded or has a bad payment record? Have those tariffs been paid in advance?
Yep, chaos. The next time a Brexiteer is proud to say that there won't be chaos, that there is a WTO system in place, this is exactly what they mean. Chaos, any which way you look at it.
When the Brits are told that the doomsday scenarios about supermarket shelves running empty are simply wrong, try reaching for a plain low-fat yoghurt that isn't in the fridge because the coding is wrong and the tariff is unpaid, or the truck driver is waiting for days for his load to be processed. And that's just a 0403.10.11. If you wanted a strawberry-flavoured low-fat yoghurt, that's 0403.10.11.04. Or is it?
The Brexiteers are promoting some sort of vision that is quite simply not true. Dr Kojo Koram teaches at the School of Law at Birkbeck College, University of London, and writes on issues of law, race and empire. His take makes this point exactly –
"However, the myth persists that anything that promotes free trade promotes British interests. Brexiteers promote a fantasy ideal of the WTO being the answer to all Britain's problems despite the libraries of research that argue that its rules lead to the impoverishment of countries that have to rely on them. Because Brexiteers misunderstand Britain's past, they believe that Britain has a "special relationship" to world trade. They cannot fathom the damage that relying on WTO terms to govern trade with our largest trading partner will do to the economy, even if it is obvious to rest of the world."
Of course, it shouldn't be forgotten that the trade Britain does with America, for instance, is not as arch Brexiteer Lord Lilley would have you believe – "we trade with America and many other countries on WTO terms" he said. But we don't. Our trade with the US is currently regulated by over 100 sectoral agreements that go well beyond WTO provisions.
The Independent wrote about Lilley – "he (Lord Lilley) claimed that, because the European Union has signed up to the WTO sanitary and phytosanitary (SPS) agreement (relating to measures intended to protect humans, animals and plants from diseases, pests or contaminants), it would not be able to impose border checks.
In actual fact, the only non-EU countries that export to the EU without the need for checks at veterinary border inspection posts are Switzerland, Norway, Iceland and Liechtenstein. How have they managed this? Simple. By harmonising their SPS regimes with that of the EU. Meaning if the EU changes its rules, they must do likewise."
The way that the WTO gets around long queues at border crossings is really quite simple – its provisions on streamlining processes at borders merely require that states do their best, rather than insisting on compliance. They don't police them and don't have the power to inflict serious penalties for infringements. Don't forget this works both ways – imports from other WTO members could be harmful.
The Institute For Government reiterates that standards under WTO rules are rather 'relaxed.' "Where WTO agreements do apply, they don't provide the kind of protection imputed to them. For both technical regulations and food safety, WTO rules require only that countries enter into consultations on recognising equivalence of similar rules. This leaves a lot of discretion to the importing country on what it will accept."
And just to highlight the problem – according to the WTO, there is, for instance, a US-EU case on aircraft under WTO rules that is still ongoing after 14 years. Britain has, along with four other EU member states objected to America's claim over subsidies and 14 years later, the case remains unresolved.
It should be obvious to anyone who cares to look it up that the WTO has no mechanism to offer the UK instant respite from day one of leaving the EU – far from it.
Anand Menon is professor or European politics and foreign affairs King's College London. His view is that: "Myths about the World trade Organisation loom large in the debate about Brexit. It is only by claiming that trading "on WTO terms" would be fine that Brexiters manage to be so relaxed about the UK leaving the EU without a deal. But, as parliament begins perhaps its most important peace-time deliberation, the least our MPs and the public deserve are some facts to base their choices on."
These facts about Britain trading with the world on WTO terms are in very short supply.
Footnote
Since this article was published a reader with personal experience contacted us to make a point we thought valid enough to publish. We have extracted the name of the employer, a household named corporate as requested.
"I worked with a company that shipped products all around the world. The article describes the HS commodity code system which every company trading internationally will know and understand perfectly well. The coding is not that complicated! Payment of tariffs would be sorted out as part of business to business agreements regarding shipping and payment terms. It looks to me like you are using complicated terminology to scare readers into thinking this is a bigger deal than it is. Computer systems will hold the HS data per product and apply it to the relevant paperwork as they do now.
From 2001 to 2013 I worked for XXXXXXXX, the part of the business responsible for shipping branded products to countries including USA, Thailand, Taiwan, HK, Russia, Norway, Holland, Switzerland and the Gulf.
I had a number of roles including Supply Manager and Data Manager, and responsibility in my last role as Process Development Manager included setting up systems to meet trading requirements for different markets and ensuring good quality data in those systems.
Commodity code was just one piece of data, but it is critical to get it right to facilitate movement of goods to markets. A trading team would know exactly what to enter for the product type they are selling. As for duty, we would clarify the Incoterms in advance, which could be ex-works, Free on Board, Delivered Duty Paid, etc. All of the information, including descriptions, pricing, etc would go with the goods on the paperwork. Accurate paperwork was the key to ensuring goods entered the markets without problems. This would be considered 'normal' for any international trade.
To the uninitiated, it looks complex, but companies really ought to have done their homework in the last two years.
The reader goes on to say – 'You do need to validate what I am saying as I moved out of International over 5 years ago and am not up to speed with changes since then.' Given time constraints, we don't have the resource to do this right now but thought it important enough to let all of our readers know this new information.
---