Philip May: Tory activist, City insider and Under Suspicion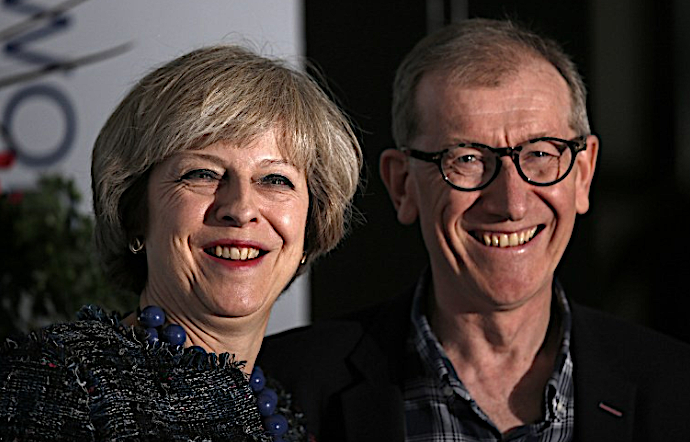 Ben Riley Smith, the Assistant Political Editor of the Telegraph wrote an exclusive on April 22nd this year that focused on Tory party Chairman Sir Patrick McLoughlin. The article is headlined:
It quotes Sir Patrick as saying: "You know, even now as Prime Minister she will still go out at weekends knocking on doors. She's really got her feet on the ground, listening to her constituents and that of the country.  She's at home doing that and so is Philip as well, which I think is one of the hidden powers of her political career." 
Get Briefed, Get Weekly Intelligence Reports - Essential Weekend Reading - Safe Subscribe
"I think Philip is amazing. He will turn up at central office and do telephone canvassing just with anybody else. 
"He's been a constituency chairman. He's done everything in the party and that is what I think a lot of people and party workers like."
At this point, the appearance that Philip May exudes is simply one of really supportive husband. He's also got a full-time job though. Philip May has worked in finance since graduating from university. He has been employed by the financial group Capital International for more than ten years and had previously been a fund manager for de Zoete & Bevan, Prudential Portfolio Managers and Deutsche Asset Management.
In July last year the Independent reported that: "Theresa May's husband is a senior executive at a $1.4tn investment fund that profits from tax avoiding companies."
Latest filings to US authorities showed that Los Angeles based Capital Group, where Philip May works, owns huge stakes in a variety of companies, including investment bank JP Morgan Chase, defence giant Lockheed Martin, tobacco company Philip Morris International, Bayer, Credit Suisse and UBS to name just a few. There is nothing illegal in these investments but they companies frequently in the media accused of either fraud, corruption or criminal activity of one sort or another, including tax avoidance.
Is it possible that Philip May, a banker, who works as a senior executive in a company advising and managing some of the world's most despised corporations is profiting from not just a close relationship with Britain's Prime Minster – but also from insider knowledge. Tory party Chairman Sir Patrick McLoughlin describes Philip May as "one of the hidden powers of Theresa May's political career" and so do others in the know.
Vox Political headlines:
Last December it was reported that she (Theresa May) planned to spend huge amounts of taxpayers' money exempting him (Philip May) – along with other people who work in the City – from Brexit. Has this been investigated by the Propriety and Ethics team?
Vox Political continues: "It seems the Cabinet Office Propriety and Ethics Team has launched an inquiry into whether the company which employs Theresa May's husband, Philip, could have potentially made large sums of money from Brexit market movements caused by her decisions."
David Henke from Byline Media: "Sources say the Cabinet Office Propriety and Ethics Team have launched an inquiry into whether there is a conflict of interest between Theresa May and her husband, Philip, over his job at the Capital Group, which makes millions of pounds in market sensitive information, including from Brexit."
Henke confirms in his report that the Cabinet Office Propriety and Ethics Team launched an investigation in April.
A Cabinet Office spokeswoman said: " We cannot and do not usually comment on private emails. We are also in a period of purdah so this could be a matter for Conservative Central Office".
In an update to that article "A Cabinet Office spokesman said: "The Prime Minister has declared in full her interests and the interests of her husband. There is no conflict of interest."
There has been no information since to confirm or deny if this investigation is proceeding or not.
But let's not forget that Philip May's influence over Britain's PM is much greater than first thought.
From the Financial Times: "Mr May, an experienced Tory activist who in recent months has become the prime minister's eyes and ears in the City of London, played a small but significant role in securing the Conservatives' backing for Britain's involvement in Europe during Margaret Thatcher's tenure as prime minister."
The FT continues to make the point that : "Since Mrs May entered Downing Street he (Philip May) has acted behind the scenes as the prime minister's link to the Tory grassroots and as someone to consult on business issues, according to leading business figures and political observers."
"He is very much a back-channel to City sentiment," said one senior executive. Another says "He is known by some as Mrs May's "secret weapon."
How true the allegation is that the Propriety and Ethics Team at the Cabinet Office are investigating Theresa May is not known, but if found to be true and to be the case, one can only speculate that the Prime Minister of Britain could feasibly be dismissed.
---