Inside IndyRef2 – Scots prepare to take on Westminster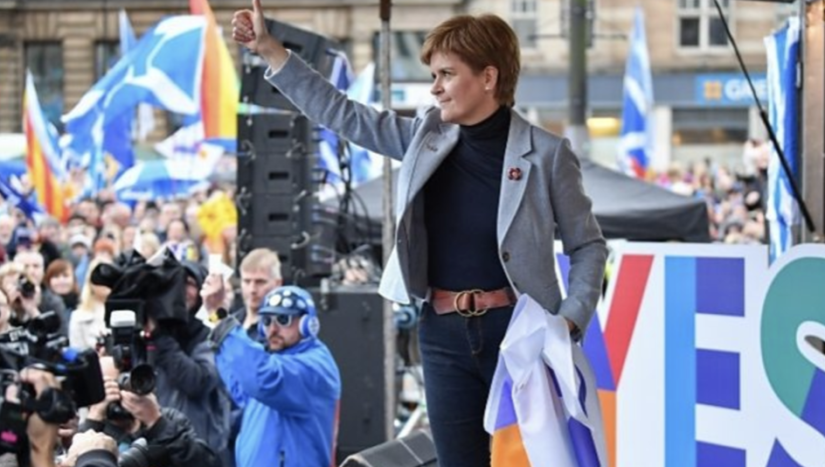 By Norrie Hunter: Britain now finds itself in a general election which may settle Brexit but have unexpected consequences for the United Kingdom. 
The Conservative Party, in normal times, would be suffering a meltdown in the polls but Brexit has given a pulse to this dying brand of politics. Boris Johnson is seen as the man to get Brexit done. Despite a woeful start to his leadership losing his fist six votes – he blamed parliament for denying the 17.4 million voters who voted as a majority for leaving the EU. He plays on his populism and his happy demeanour but this masks a man hell-bent on getting Britain out of Europe at any cost: to human life in Northern Ireland and to abject misery on EU nationals threatened with deportation.
Despite his gaffs, Johnson is riding high in the polls and still maintains a healthy lead over a fractured Labour Party and the Tory party campaign machine looks to capitalise on the popularity of Johnson. A recent poll from YouGov shows the Conservative Party at 39%, Labour on 26%, with the Lib Dems on 17% and the Brexit Party on 10%.  This adds up to 49% favouring an anti-EU stance, which means Scotland will be dragged out of Europe against its will. In Scotland, the political landscape is very different with the SNP holding a 42% lead over the Tories on second place with 22% Labour on 12% with the Lib Dems on 8% which would mean the SNP taking most of the seats. First Minister Nicola Sturgeon, stated 'a right-wing pact between the Tories and the Brexit party makes the perfect case for independence." 
SafeSubcribe/Instant Unsubscribe - One Email, Every Sunday Morning - So You Miss Nothing - That's It
"A right-wing pact between the Tories and the Brexit party makes the perfect case for independence"
Put into context Scotland has 59 out of 650 seats so will always be outvoted on any bill they try to pass. The section 30 order (allowing the Scottish Parliament to legislate for and hold a legally-binding IndyRef2) will be voted down in Westminster – a seriously bad move for Johnson. If he has no mandate in Scotland would he, for the sake of getting Brexit done, be willing to 'lose' Scotland? A recent poll of Conservative members think so – and said by a majority of 67% they would be willing to lose Scotland in order to secure a no-deal. The latest YouGov poll revealed that only 4 in 10 Britons don't care if Northern Ireland leaves the UK. Boris Johnson has also said he will not secede the Section 30 order stating it was a once in a generation referendum, which the SNP are saying is undemocratic and will be challenged. Johnson has refused head to head TV debates with Nicola Sturgeon. On his recent visit to Scotland, he said he was visiting the regions of Britain. Scotland is an ancient country, not a region and this comment infuriated many Scots. Further, he secretly went to a Distillery to state a negative case for Scotland if it chose to be independent. This 'once in a generation' mantra, which is supposed to have been said by ex-First Minister Alex Salmond – seems to be a uniquely Conservative form of amnesia. After all, voting NO to Scottish independence in 2014 secured Scotland's place in the EU. The SNP have got Johnson over a barrel – and he knows it.
(READ: SNP joins Lib Dems in taking legal action over 'unfair' ITV News election debate)
The official opposition to Boris Johnson is the Labour party with Jeremy Corbyn as leader, who has shown to be woefully inadequate. Labour are split between Corbynistas or Blairites the latter wanting to remain in the EU with Corbyn a lifelong anti –European. This meant Corbyn is hamstrung and cannot rely on his party for total support and he rarely lands a blow on his opposite number. A more difficult opponent is the SNP Westminster leader Ian Blackford who commands a tight-knit party. So powerful a foe, the Tories muster up dirty tricks to try and unsettle him
In parliament, the SNP leader has been shouted down, heckled and verbally abused while giving keynote speeches, all for having the audacity to speak up for Scotland. Backed with a supine Speaker of the House in John Bercow, the guilty parties get away with it but as parliament is broadcast on television the Scottish people can see this disgraceful behaviour. 
We have noticed how the Tories have deliberately started to call the SNP the Scottish Nationalist Party rather than the Scottish National Party in an attempt to smear the SNP as a narrow single-issue party. It's a pathetic attempt to smear. The big shock was when the BBC repeated this slur on their news program. You would think they should know better. After all, they wouldn't call the Scottish National Opera the Scottish Nationalist Opera, would they?
Outside of parliament, the SNP have been addressing rallies in Glasgow to 20,000 people, which was the first opportunity for Nicola Sturgeon to address such an audience. She previously avoided previous marches and rallies but felt the time was right to address the crowds. She warned about the loss of workers' rights and environmental standards under a Johnson led government. She also stated to mass applause that she would be seeking a Section 30 order. To explain: the Scotland Act which created a Scottish Parliament with the power to make some laws on some issues – itself does not devolve power to the Scottish Parliament to legislate and authorise an independence referendum. It must be remembered that the Labour party with the help of Liberal Democrats were the original signatures to the Scotland Act and were careful not to obey their London masters.
The SNP who are not beholden to London are popular in Scotland because they actually bring government closer to the people.
The SNP who are not beholden to London are popular in Scotland because they actually bring government closer to the people. The baby boxes given to every new-born have been very popular with mothers making them feel included in government policy.  We have a new bridge across the Forth which was built on time and under budget. All tolls over bridges have been abolished. We have free prescriptions for medicines and there are no tuition fees for those going on to higher education.  Compare this to the Westminster government who have metered out a savage austerity program. Families in England have even had to endure the bedroom tax debacle. The SNP mitigate this tax for Scottish people. 
You would be mistaken for thinking the SNP are sure-fire winners in Scotland.  Sadly, our people still get fed a diet of lies and propaganda from a media from many miles outside Scotland. Boris Johnson is referred to as Boris and is given an easy time when blatantly lying that Scotland does not have a say in his Withdrawal Bill. When he was proven wrong,  no reporter pushed him on this. Despite this, his personal ratings have plummeted further with Scottish citizens. This despite his Scottish branch office doing all they can to soften his image. A Tory MP on BBC Question Time was roundly booed as she said Boris Johnson had the best interests of Scotland in his heart. 
So, if the polls are to be believed, the Tories will have no Scottish representation in the House of Commons and the SNP will have a majority of Scottish seats. This will inevitably put Boris Johnson under additional pressure from all sides to deal with an in invigorated Scotland demanding its independence from Westminster.
Norrie Hunter has an MA in Politics and International Relations – is a columnist for the SNP independence magazine and co-founder and presenter of indyliveradio.
Latest Polling
From a poll conducted by the Scottish Herald: 57.57 per cent, intend to vote for Nicola Sturgeon's party at the General Election on December 12, followed by 14.91% for the Conservatives and 12.51% for the Liberal Democrats.  Just 7.20% intend to vote for Labour.
In a Panelbase poll for the Scottish Sunday Times, Scottish Independence has now reached 50%. This marks a five-point increase on the 45% Panelbase registered on average in its polls last year, which mirrored the 45% yes 55% no result of the 2014 independence referendum.
---