New Facebook Censorship In Wake Of Cambridge Analytica Meltdown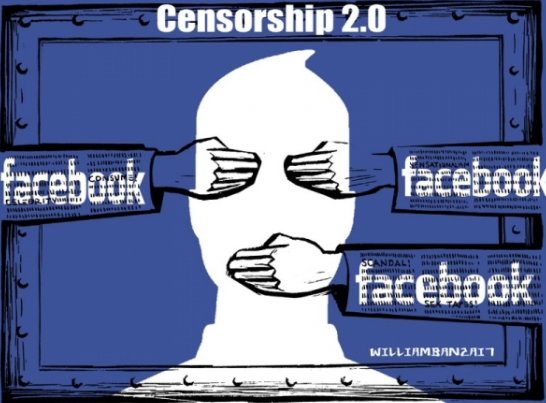 By TruePublica: It is difficult to read the news today without Facebook being in it, more often than not for all the political shenanigans and profiting from egregious privacy abuses. It should be quite clear for all of Mark Zuckerberg's rather weak apologies, he knew all along what Facebook was doing, who was buying and what information was being used.
All over the world, Facebook has been caught breaking the law. Two months ago it was facing fines of up to 100m euros in Belgium because it had broken privacy laws by tracking people on third-party sites. France and the Netherlands did the same for similar reasons. Last May, the company was fined £94m by the EU for 'misleading' (AKA – lying) to the European Commission on its 2014 takeover of WhatsApp. It was fined $33m for failing to cooperate with a corruption investigation in Brazil last week, and a few weeks before it was fined $369m for interfering in South Korea's internet infrastructure. The list goes on but now after the Cambridge Analytica scandal, it is facing the cost of losing users' and investors' trust, with up to $100bn wiped off of the company's value since news of the scandal broke. Now comes the news that it is finally under investigation by the US Federal Trade Commission that could result in a penalty of up to $2tn. Yes, you read that right – two trillion dollars.
Censorship Reaction
Last year, ProPublica (no relation) released a bombshell investigation into the company's hate-speech censorship guidelines. The report included documents revealing that Facebook's rules often end up protecting the rights of those in power over those who are powerless.
Get Briefed, Get Weekly Intelligence Reports - Essential Weekend Reading - Safe Subscribe
Actions like these are to mitigate the scale of privacy abuses with regulators who ultimately report to – 'those in power'.
Facebook's latest reaction is a clear move to placate the powers that be by providing a bespoke censorship service by requiring 'Pages' with large numbers of followers to be authorized and will require the same of political ads on its site and on Instagram – country by country. There is no information available as to what 'large numbers of followers' means.
Rob Goldman, Facebook's vice president of ads, and Alex Himel, its vice president of local and Pages, said in a blog post on the company's site:
"We know we were slow to pick-up foreign interference in the 2016 US elections," Goldman and Himel wrote. "By increasing transparency around ads and Pages on Facebook, we can increase accountability for advertisers — improving our service for everyone."
"We were slow to pick-up foreign interference in the 2016 US elections" – is the understatement of the year and makes no mention of the interference it is now under investigation for in other countries.
The company will require authorization for issue-based ads, such as ads around current political topics and debates.
Advertisers will need to confirm their identities and location in order to get authorized. Facebook will ban those that don't clear the process from running political ads or political topics on either its social network or on Instagram.
Existential crisis
In other words, Facebook is now facing an existential crisis and unless it complies with the wishes of each state it operates in around the world (of those in power), it gets yet more fines – and the fines keep getting bigger.
An investigation has now been launched in the UK by the Information Commissioner's Office (ICO) which is charged with protecting the privacy of UK citizens (a farcical concept as the UK is known to be the most illegal and abusive citizen surveillance state in the West). The reality is that Facebook presents a political problem to a government hanging on by its fingertips where 'the powers that be' are desperate to control the narrative, particularly in the light of Brexit. Aside from its shambolic negotiations with the EU and political infighting, a whole raft of poor results, bad data and news linked to government scandals, under-performance, corruption, neglect and civil liberty abuses is now weighing heavy.
Facebook is facing yet more pressure on the 27th April when the UK's Digital, Culture, Media and Sport Select Committee questions Cambridge Analytica whistleblower Christopher Wylie and privacy researcher Paul-Olivier Dehaye. This Committee has demanded that Zuckerberg gives evidence in person, who has already said he will not do.
The truth is that Facebook is censoring the internet every day and it does so at will. It was described recently by The Guardian as "warping your understanding of the world around you to benefit its corporate interests and fundamentally changing the media landscape in a potentially apocalyptic fashion."
Politico.eu have clearly stated how they see this 'debate' between government's and censorship unravelling: "Freedom of speech advocates warn of an Orwellian digital dystopia where government apparatchiks dictate what we can read and write on the web.Whatever side you're on, these developments offer a glimpse at the future of the internet: one in which more online messages, videos and posts will be deleted because of legislative decrees or, more likely, preemptive censorship by tech companies that fear regulatory reprisal."
This is exactly the point we have been making for some time. Facebook was a social media platform. Now it's a global censorship machine and it will comply with the 'powers that be' – or else.
---